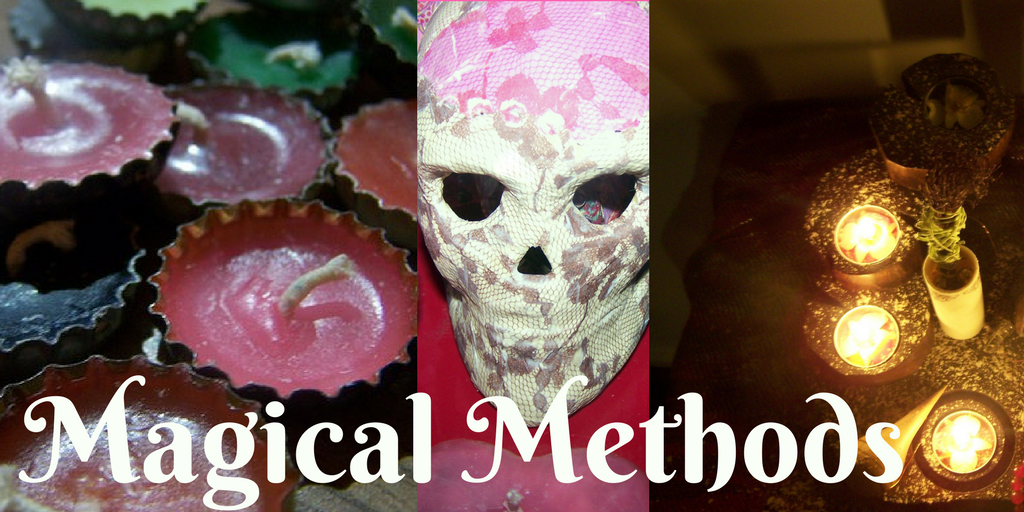 What does your Book of Shadows - or witchy notebook - look like?
Is it a collection of spells you found on Pinterest, notes from a heated Facebook discussion or two, and the basics of sigils that your friend on the back of a smoothie label?
Is it full of frustrated crossings out and back-tracking, because you can't figure out a way to keep it all straight in your head, never mind on paper?
Is it a beautiful notebook that's completely blank because you daren't write in it because you feel like you're just too much of an ignorant newbie?
If you answered yes to any of these questions, stick around. You don't need a dedicated witch's notebook, of course, but if any of the above sound similar to the way you are approaching learning witchcraft in general, I have a better way.
---
What would you like your witchcraft notebook to look like?
A clean and precise notebook, with sections and indexes or whichever organisation method your heart desires - everything you might need to refer back on in a clear and sensible order?
A smart notebook full of spells and methods that really work - with facing pages of your own notes detailing your own experiments and optimizations?

A full and rich chronicle of the spells you've actually completed, with notes and proof of results?
---
All of these things are achievable! The three problems I noted above are the most common problems new or intermediate witches face. And they are all solved with the same solution - groundwork.

Instead of spitting and spotting from books to Pinterest to the deep web, you can lay out the absolute basics of each of the forms of witchcraft. You can build up your knowledge of each one slowly and steadily, knowing that you aren't suddenly going to come across a Tweet or meme that blows everything out of the water.
This course does not hand you the keys to the universe. This course shows you where to find the lock, and start to jimmy it open with a hairgrip. I'm not going to stand here and tell you I'm offering you deep and eternal wisdom, because that would be crap, and you know it. I will say I'm offering you the chance to enrich your knowledge of witchcraft in a grounded, sensible and practical way - preventing you from running around in circles for years.
---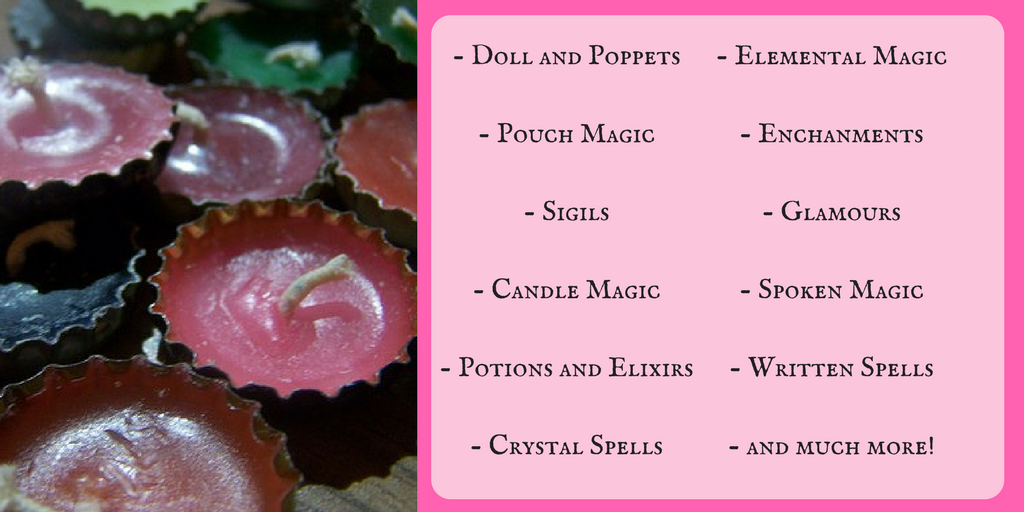 You'll notice that list is not divided into 'results' - money spells, love spells and so forth. That's because each form of spell can produce just about any result you so desire. And that's what often leads people to tail-chasing. You search for spells based upon the result you need right now. Which is fine, in the moment, but fast forward two years later and all you have to show for it is a half-full pack of Post It notes and no real idea how it all fits together.
I know, because I've been there :)
---
Speaking of Facebook, if you buy before June 1st, you can get all of these time limited bonuses:
- Access to a students-only Facebook group where you can discuss lessons, share insights and find more resources
- Weekly livestream lessons through the month of June (worth £49)
I'll be doing 45 minute lessons LIVE through YouTube, which only the people who buy before June 1st will get access too. I'll be listening to what you guys are struggling with the most in the Facebook group, and then creating super-exclusive value packed livestreams to get you over those blocks.

But all of that is only available before June 1st!
---
So, what are you getting for £29?
You're getting a jam-packed online course, full of the following:
- Multiple videos per module
- Not just lectures, some modules have full video tutorials
- Recipes, methods and cheatsheets - all downloadable and printable
- The FULL lowdown on how to write your OWN spells

- and so much more!
If you're ready to super-charge your witchcraft practice, sign up now - Full Moon ritual not necessary. :)
Click that button below (or up top) and reserve your space today!
---
Magical Methods is wholly self-paced, so you do as little (or as much!) as you like. You have access to the materials (and the group, if you buy now) for life - no takebacks.
There is also no dogma, preaching, conversion or prescribed religion involved at ANY point in Magical Methods.
You do not have to be Wiccan, a Chaos Magician, Pagan, Heathen or any particular religion or practice to take part and get results. You can be of any faith, or none at all.
Magical Methods describes the practical forms of witchcraft and associated magics only. What you choose to do with that information is up to you.
---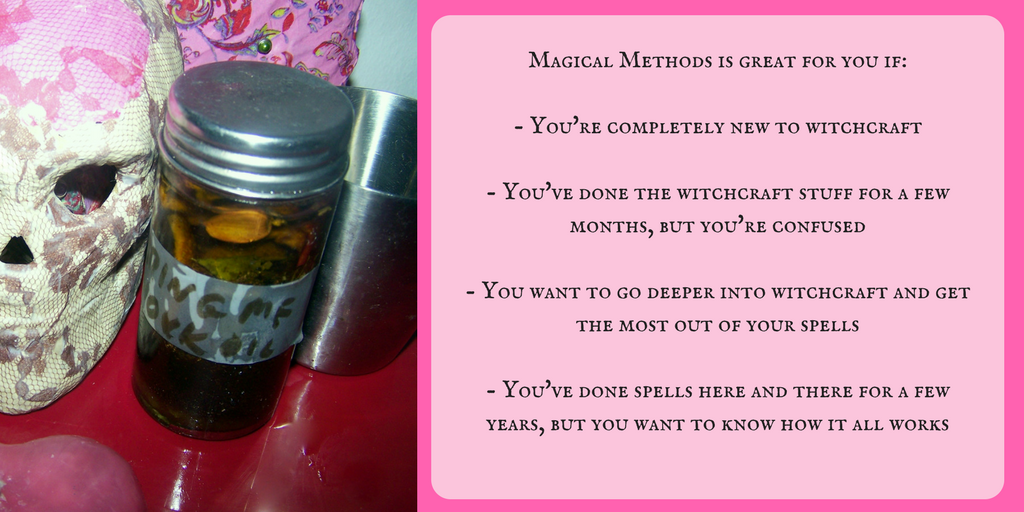 ---
So what do you get with Magical Methods?
- The ability to write your own spells - and know what you're doing!
- Knowing the right spell method for your desired result - every time!
- Using spells that work!
- Making your practice or spells work for you - not the other way around!
---
Hi! I'm Siobhan Johnson, witch, Tarot reader and author. I was a professional Tarot reader for nearly five years, and I started working professionally just after I left school at 16. I commanded top rates for Tarot reading before I was 21, both at live events and online. I've since left client work, for writing, and I've had articles on witchcraft published here in the UK and across the pond. I write a very popular witchcraft blog, and I'm often a source for journalists looking for weird and wonderful stories. I started with witchcraft when I was 13, and I used it to reach my dreams of being a published writer the very next year.

I'm no armchair occultist, nor I am someone selling you coloured water whilst my drains burst and my garden wilts. I can get you the results that you want.