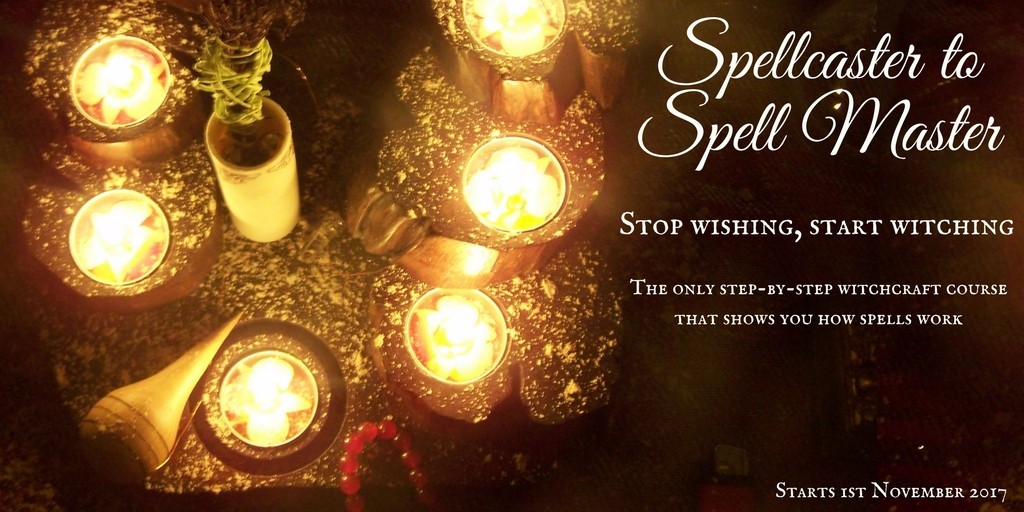 Ten years ago, I started on my witchcraft journey. And I was scared stiff of it. Exhilarated, but also confused.
Sound familiar? I see a lot of similar feelings on social media. Beginner witches of all ages and backgrounds, asking for spells for x, and spells for y, and what do you mean I have to go into graveyard at moonlight and do scary stuff? Isn't that dangerous? What happens if it goes wrong?
I get it. I've been there. I'm a Virgo - if you try and teach me a task that doesn't have a step-by-step instruction, we're going nowhere. Witchcraft can be difficult, especially if you're on your own. Which books do you trust? Can you really ingest that plant? Why do spells fail? How do I guard against unintended consequences? How do you actually get incense sticks to light properly and smell nice?
No joke on that last one. I'd witched my way to a new house and a cross country move before I worked out how to light incense properly.
That incense related 'Aha!' moment was thoroughly overshadowed, however, when I finally clued into to how witchcraft actually works. And sadly, few people step back from the detailed tapestry that is witchcraft to get that glimpse of the bigger picture.
(And no, you don't have to go into any graveyards at any time of day - unless you want to.)
If Your Experience With Witchcraft Is...
overwhelming
non-existent
confusing
disordered
chaotic
or just lacking in some way
then this is the course for you! Students of Spellcaster say that they feel more prepared, calmer, empowered and fiercely curious about exploring witchcraft again. And most importantly - they feel like they actually get get results thanks to the course!
Why This Course is Different
Do you ever wonder how humans got into witchcraft in the first place? If you listen to mythology, a Trickster God stole the knowledge from the Creator God, and brought it down to Earth, and shared it with the humans. This annoyed the Creator God, and he cast out the Trickster. This exact story is repeated across so many mythologies.
In Greek mythology, it is Prometheus who steals the knowledge of fire from Zeus to give to us humans.
'Education is not the filling of a pail, but the lighting of a fire.' - Yeats
This course is not here to fill your pail full of forumlas or ingredients. It is here to light the burning fire inside of you, and teach you the actual skills, mindset and theory behind witchcraft.
The Prometheus Method pushes you out of your comfort zone and gives you fast results. It also builds you a sturdy platform and way of learning and understanding metaphysical systems, so that you can continue learning your whole life.
The way we teach witchcraft is broken. It shouldn't have taken me a decade to learn what I did. With the Prometheus Method, you can learn a year's worth of practical, useful information in seven weeks.
Learn How Spells Work
In this course, you'll learn how spells actually work.
You'll know what makes a candle spell different from a bag spell, and how to choose herbs, colours, and stones.
You'll cast your first (or fiftieth) spell, and learn how to take notes, how to measure results, and how to prevent it backfiring.
You'll know how to take into account the planetary aspects, and how to know if a spell will work before you even cast it.
You'll learn all the forms of spells, and how to choose the ones that work for you. No flailing around in the dark wondering how all the things you've liberated from your kitchen spice drawer actually fit together.
You'll condense a year's worth of magical study, failure and fooling around into just seven weeks.
Stop wishing. Start witching.
The course is taught through concise, step by step text lessons and worksheets. You'll try out many types and functions of witchcraft, but the exact spells you choose - and the purpose behind them - is up to you.
The Prometheus Method focuses on getting you doing witchcraft. This is not a history of magic, or the purpose of magic, or magical geography. You will not learn theory and facts by rote, nor will you turn in mind-numbing homework. You will do magic.
You do not need anything witchy in particular to start, though having access to herbs and spices (even your kitchen ones will do), candles and fabric will be a fantastic help. Part of the course is learning how to do magic with what you already have.
You can be a true beginner who's never read a witchcraft book, or someone who's been doing bits and bobs in your spare time but you've not really seen any great results, or you'd like a more condensed course.
What You Get
- Week by week content, but you can go as slow/fast as you like. There is no time limit, and the course is yours for life.
- Interactive group where you can get help from other members
- Weekly live Q & As from myself, where you can ask any questions
- Printable worksheets and trackers
Bundle
In this bundle, you get the FULL 200 Spell Collection for free. It normally costs $20, but if you buy Spellcaster to SpellMaster Premium, you get the Spell Collection for free, as standard.
Why Learn With Spellcaster to Spell Master?
- Learn in a structured environment with an expert teacher

- Study with likeminded people
- Learn online in an easy to use classroom
- Transform your life in as little as an hour a week
Disclaimer: Sold as a curio only. Cannot guarantee results.